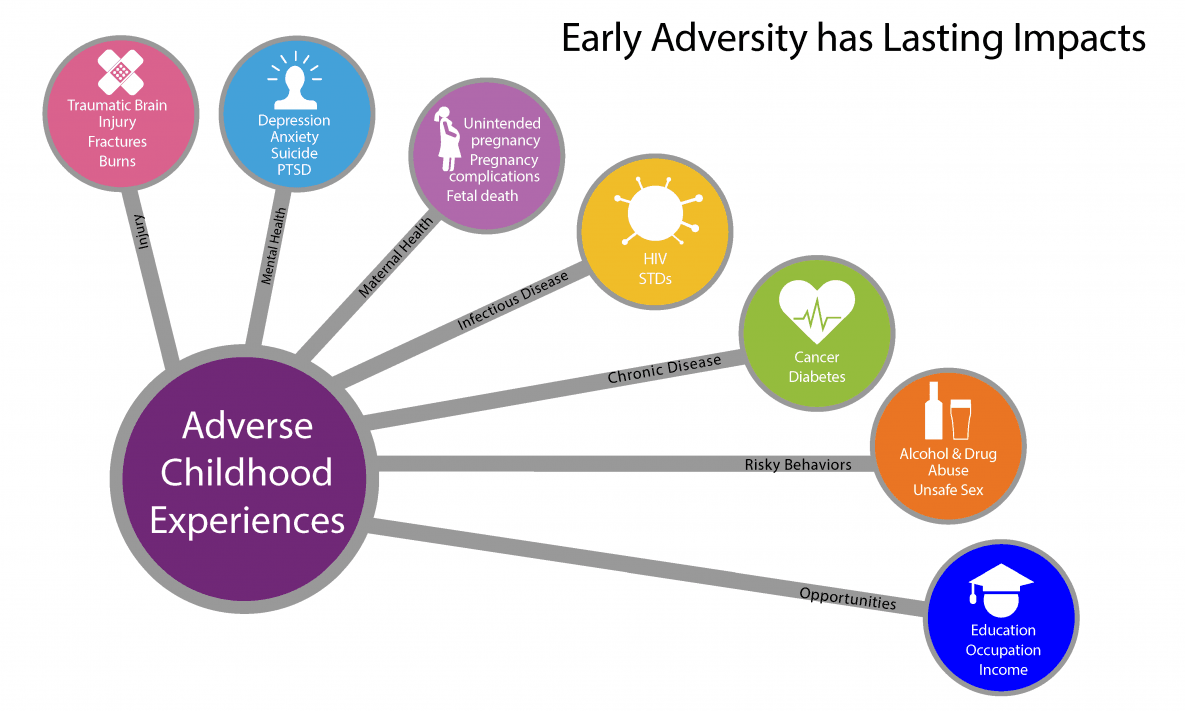 Adverse Childhood Experience Study
The CDC-Kaiser Permanente adverse childhood experiences (ACE) study is one of the largest investigations of childhood abuse and neglect and household challenges and later-life health and well-being.
The original ACE study was conducted at Kaiser Permanente from 1995 to 1997 with two waves of data collection. Over 17,000 Health Maintenance Organization members from Southern California receiving physical exams completed confidential surveys regarding their childhood experiences and current health status and behaviors.
ACEs Definitions
All ACE questions refer to the respondent's first 18 years of life.
Abuse
Emotional abuse: A parent, stepparent, or adult living in your home swore at you, insulted you, put you down, or acted in a way that made you afraid that you might be physically hurt.
Physical abuse: A parent, stepparent, or adult living in your home pushed, grabbed, slapped, threw something at you, or hit you so hard that you had marks or were injured.
Sexual abuse: An adult, relative, family friend, or stranger who was at least 5 years older than you ever touched or fondled your body in a sexual way, made you touch his/her body in a sexual way, attempted to have any type of sexual intercourse with you.
Household Challenges
Mother treated violently: Your mother or stepmother was pushed, grabbed, slapped, had something thrown at her, kicked, bitten, hit with a fist, hit with something hard, repeatedly hit for over at least a few minutes, or ever threatened or hurt by a knife or gun by your father (or stepfather) or mother's boyfriend.
Substance abuse in the household: A household member was a problem drinker or alcoholic or a household member used street drugs.
Mental illness in the household: A household member was depressed or mentally ill or a household member attempted suicide.
Parental separation or divorce: Your parents were ever separated or divorced.
Incarcerated household member: A household member went to prison.
Neglect
Emotional neglect: Someone in your family never or rarely helped you feel important or special, you never or rarely felt loved, people in your family never or rarely looked out for each other and felt close to each other, or your family was never or rarely a source of strength and support.2
Physical neglect: There was never or rarely someone to take care of you, protect you, or take you to the doctor if you needed it2, you didn't have enough to eat, your parents were too drunk or too high to take care of you, or you had to wear dirty clothes.
ACEs are common across all populations. Almost two-thirds of study participants reported at least one ACE, and more than one in five reported three or more ACEs.
Some populations are more vulnerable to experiencing ACEs because of the social and economic conditions in which they live, learn, work and play.
The Georgia Center for Child Advocacy offers several trainings about the causes and effects of adverse childhood experiences, as well as what we can do to counteract them. Follow the links below to learn more!
Becoming a More Resilient Parent
Healthy Outcomes of Positive Experiences (H.O.P.E.)
Film Screenings of Broken Places, Paper Tigers, and Resilience