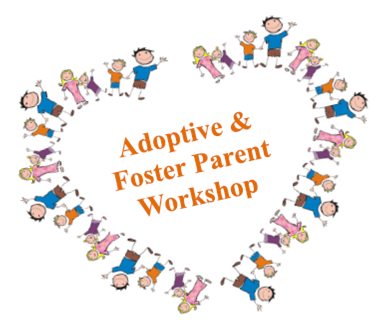 Event Title:
Adoptive and Foster Parent Training
Description:
This training utilizes the Resource Parent Curriculum (RPC), developed by the National Child Traumatic Stress Network. The RPC is a trauma-informed parenting curriculum designed to help caregivers understand the effects of trauma and learn how to help children cope with trauma in a hands-on learning environment. The RPC is an 8 module curriculum with each week building on skills learned in the previous week.

When: This is a 6 session course, occurring Wednesdays from 10:00 am – 12:00 pm
• Wednesday, February 12, 2020
• Wednesday, February 19, 2020
• Wednesday, February 26, 2020
• Wednesday, March 4, 2020
• Wednesday, March 11, 2020
• Wednesday, March 18, 2020

Childcare : Childcare will be provided on site, as needed.

Target Audience:

This training series is designed for foster, adoptive and kinship caregivers interested in learning more about the impact of trauma on youth in their care, managing behaviors and tips for self-care. Participants should have at least one child currently placed with them or have a placement in progress. Participants may be licensed through DFCS or community agencies.

Topics covered include:
-Trauma 101
-Trauma's impact on brain development and behavior
-Building and enhancing safety
-Feelings and behavior
-Connections and healing
-Advocating for your child
-Self-care and parenting strengths

Cost:
FREE

Continuing Education:
Participants attending all 6 training sessions will receive 15 hours of training credit.

Registration:
Thank you for your interest in our Adoptive and Foster Parent training. We have reached capacity for this training and registration is currently closed. We will be delivering this training several times over the course of this year, so please send an email to Jennifer Hossler with your (1)name and (2)email address to be added to our waitlist for future trainings in 2020.
This form is currently unavailable. Try again later.