Our Statewide Prevention Initiative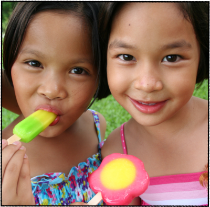 The mission of the Georgia Center for Child Advocacy's (GCCA) statewide prevention, education and outreach initiative is to prevent child abuse, reduce childhood trauma, and promote healthy outcomes in Georgia through a collaborative effort that equips adults and youth with awareness, education, and resources to take action.
Beginning in 2006 with one staff person and one training program, the Prevention and Education Team has grown to a staff of eight, offering a variety of different trainings and presentations. With the assistance of over 1,600 volunteer Trainers and Facilitators, we have provided child abuse prevention trainings to over 190,000 Georgians in communities across the state.
Our Prevention and Education trainings and outreach activities include:
GCCA's initial program, Darkness to Light's Stewards of Children, teaches adults to prevent, recognize, and react responsibly to child sexual abuse. Darkness to Light also has developed and the GCCA provides specific supplemental trainings that dive deeper into topics related to child sexual abuse prevention.
Stop It Now's Circles of Safety: Understanding the Role of Healthy Sexual Development and Understanding & Responding to Boundary Violations workshops highlight the continuum of healthy sexual development, how to determine whether sexual behaviors in children are age-appropriate, how to recognize inappropriate or harmful behaviors in adults as well as children, and how to spot situations that increase risk of sexual harm to children.
Connections Matter Georgia addresses the intersecting topics of Adverse Childhood Experiences (ACEs), trauma, brain development, and resilience building. In partnership with Prevent Child Abuse Georgia, this training initiative educates how caring connections serve as a primary buffer in the negative effects of trauma and how to develop strategies for strengthening both personal and community resilience.
Human Trafficking: Preventing the Commercial Sexual Exploitation of Children. In partnership with Child Advocacy Centers of Georgia, this training provides attendees with a foundational understanding of CSEC and identifies steps each attendee can take to spread awareness and respond to this issue in their community.
Additionally the GCCA provides customized outreach and educational presentations on Adverse Childhood Experiences (ACEs) through screenings of documentaries Broken Places, Resilience, and Paper Tigers. Other child safety trainings including Love146's Child Trafficking and Exploitation Prevention, Mandated Reporter, and Online Safety.
.