Change Maker's Breakfast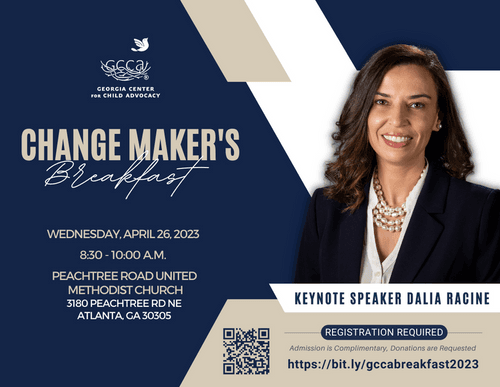 The 17th annual Change Makers Breakfast is on Wednesday, April 26th from 8:30-10:00am. This fundraising event is in honor of April's National Child Abuse Prevention Month. Our keynote speaker is Dalia Racine, the Douglas County District Attorney. Dalia has been a strong partner of the Georgia Center for Child Advocacy for over 20 years. She has dedicated her life to keeping the community safe by prosecuting offenders of crimes against women and children, homicides and human trafficking. The event is complimentary. However, there will be a moment during the program where you will have an opportunity to make a contribution to the Center. Registration is required. 

Our past keynote speakers include Child Abuse Survivor Sasha Neulinger and Jenna Quinn, Judge Glenda Hatchett, Penn State case Matthew Sandusky, Olympic Gold Medalist Margaret Hoelzer, former Miss America Marilyn Van Derbur, owner of C.D. Moody Construction Company David Moody, former Dekalb Police Detective Kevin McNeil, and local sex trafficking survivor Rachel Thomas.  
---
View Pictures of the Following Change Makers Breakfast:
2019     2018     2017     2016     2015

---