Understanding and Supporting Youth with Problematic Sexual Behaviors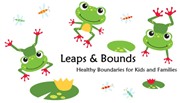 This workshop will provide general information on Youth with Problematic Sexual Behavior, including definitions, statistics, continuum of sexual behavior, key risk and protective factors, important myths vs facts, and current research. Facilitators will also discuss effective supports for Youth with Problematic Sexual Behavior, including the Georgia Center for Child Advocacy's Leaps and Bounds program.
When: Tuesday, April 18, 2023 from 9:30am to 11:30am
Target Audience: Parents and Caregivers
Topics covered include:
- Concrete knowledge about Adverse Childhood Experiences (ACEs) using Georgia data
- Reactions to stress and techniques for dealing with stress
- Tools for strengthening the resilience of parents and children through relationships
Cost:
During April in honor of Child Abuse Prevention (CAP) Month...training is FREE!
Registration:
Registration is required. To register, please click "register now" at the top of the page. Once you have signed up, additional video conference instructions will be emailed to you. A follow-up survey will be sent via email immediately following the training. In order to receive a certificate of completion, participants must complete the initial follow-up survey. There is a minimum of people needed to conduct a training, so please be aware that if there is low registration, this training may be canceled.