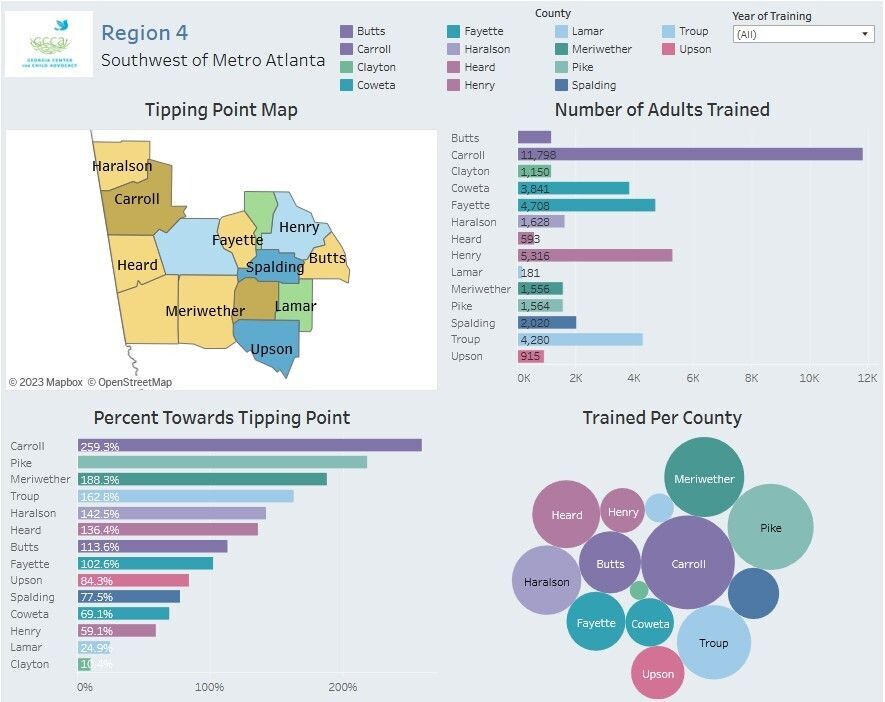 Krista Gonce has been the Regional Coordinator for Region 4 since August 2012. She has a Bachelors of Arts degree in Psychology and Criminal Justice from the University of Central Florida and a Masters degree in Clinical Psychology from Argosy University in Atlanta, Georgia. She has worked in the human services field since 2004. She is a Certified Clinical Advanced Alcohol and Drug Counselor and has previously worked as a Victim Advocate for two years in Orlando, Florida at the State Attorney's office and a Substance Abuse Counselor for five years at various non-profits agencies in both Florida and Georgia. Krista moved back to the Atlanta area in 2009 and currently resides in Fayette County with her husband and daughter. 
Region Four has trained over 39,000 adults in Stewards of Children and eight counties have reached tipping Point; Butts, Carroll, Fayette, Haralson, Heard, Pike, Meriwether and Troup Counties. Two counties have reached 10% trained; Carroll and Pike Counties. The Region as a whole is 85% towards tipping point.
Region Four has trained close to 400 hundred adults in Connections Matter Georgia Training and several Adverse Childhood Experiences (ACEs) presentations have taken place in all 14 counties.  

Contact Information
Krista Gonce, MA 
email: KristaG@gacfca.org