Join the Pinwheel Campaign for Child Abuse Prevention Month
Child Abuse Prevention Month is a time to deepen our understanding of what helps families thrive.
2023's CAP Month theme is #BuildingTogether!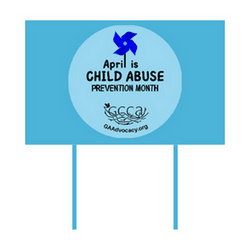 Show your support for GCCA this April for Child Abuse Prevention by participating in the yard sign fundraising campaign! Join the fun by purchasing a sign (or a few!) to place in a friend or neighbor's yard! Then, it's their turn to spread the love.
All proceeds will benefit the Georgia Center for Child Advocacy, providing critical funds to the children GCCA serves through providing forensic interviewing, family advocacy, therapy and prevention.

---
Find YOUR Neighborhood
Georgia Center for Child Advocacy leads the Prevent Child Abuse Georgia (PCA Georgia) local council for Dekalb and Fulton County. GCCA educates, engages, and empowers local people and organizations to improve outcomes for children and families. In this role as Prevent Child Abuse Atlanta, GCCA will continue work within our programming to bolster child abuse and neglect prevention efforts and awareness in the community. In support of Child Abuse Prevention Month, GCCA is offering free trainings throughout the month of April through Prevention Palooza.